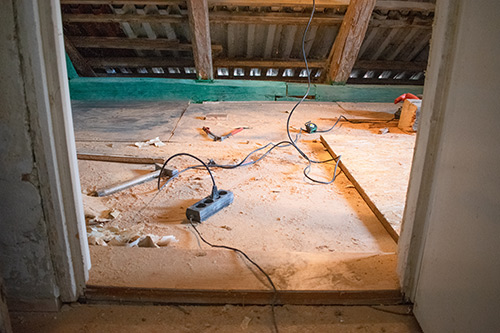 If you live in an antique home, you may need to add additional insulation to the attic, walls and crawl spaces in order to make your home more energy efficient. Adding home insulation is very important for cutting down on energy bills, and for maintaining a comfortable indoor temperature. Air leaks happen when certain parts of your home are not adequately sealed and insulated. This is a common issue to older homes which is why additional home insulation is needed in them. But what is done with existing insulation?
Home insulation used to be made of corncobs, newspapers, wood shavings, or other similar materials. These early insulation materials can be left in place when more modern insulation is added. Only home insulation containing asbestos and urea-formaldehyde create a concern in older houses. If you don't know what type of insulation is in your antique home, it is best to hire an insulation specialist to inspect the existing insulation to see what it contains. If the insulation contains asbestos which is carcinogenic, a complete removal of the insulation is required by a licensed removal company or you may choose to encapsulate the material if removing it is too intrusive. Urea-formaldehyde is a health hazard when it emits noxious gases which is why it was discontinued.
The appropriate amount of home insulation in Hebron, CT helps cut down on energy expenses and increases the value of your home. But in the case of older and antique homes, inspections are very important in order to determine the right material to be used when adding insulation.
For more information about how to have additional insulation installed in your antique house, contact Custom Insulation Company, Inc.