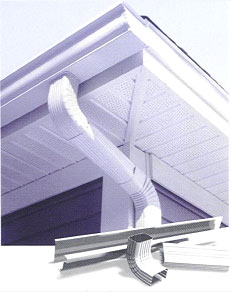 Aluminum gutters are the most in-demand gutter material on the market. Homeowners find it to be the most practical because it offers genuine functional value. It provides the stability in your homes when it comes to durability, affordability, and the level of customization. Further, with aluminum gutter it is a simple thing that makes your home extraordinary with the desirability it adds to your home and offers an investment that will save you money in the future.
Installing aluminum gutters will save you money because it is a value-priced solution with a quick set-up time. It is the perfect choice for a budget-conscious family given its long-lasting material that will meet every expectation in protecting your home. The beauty of the aluminum gutter that adds to your home will be customized based on your style and how you wish it to be placed that will best match your home or have them painted to match a custom design. It holds paint well and as such you do not have to worry about rust or sagging. And if you wish to repaint them over time it will keep them looking fresh and appealing.
The long-lasting aluminum gutter will offer your home a future an investment that will not deteriorate and still look good looking if ever you want them to sell in the future. This is a rewarding treat to your home where you will increase property values while putting a little investment into your property gutter and at the same time enjoying the beauty and desirability of your home.
For more tips on Aluminum gutter, contact Custom Insulation Company, Inc.