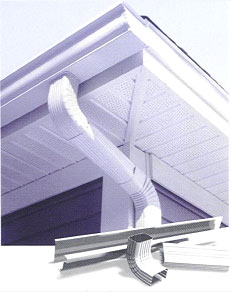 Aluminum gutters contribute an unbelievably flexible and reliable material for your next gutter system. The cost advantage is undeniable when compared to many other gutter options. Their durability means that investing in Aluminum gutters is a sound investment decision.
Aluminum gutters are noted for their durability. It is a favored material for professional roofers and roofing contractors. It holds up to detrimental weather conditions and it lasts for years without needing maintenance or repairs. It has the capability to hold more water, especially during heavy downpours. It also does not rust. It offers versatility in its use and it will be adjusted or reshaped to custom fit the design of your house.
If you want to gutter that is really worth and that will last, your choice needs to go with a seamless aluminum gutter rainwater system. This is the reason why it is a popular choice among homeowners because they have no seams which means no leaks. No leaks mean no water spilling down the side of your home which creates more damaging issues like foundation damage etc. Lastly, aluminum gutters are customizable that fit any space on the roof or down the side complementing your home which adds more to your home value and prevents rain damage.
For more tips on the Aluminum gutter, contact Custom Insulation Company, Inc.