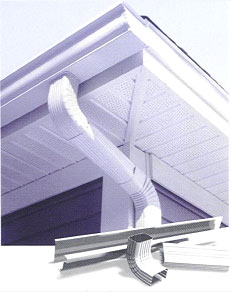 Being creative in selecting the best gutter is the most exciting part of styling your home. With enormous options available, you will find the Aluminum gutter the most popular choice because it offers flexibility to suit your lifestyle. You will surely find a match for your style of home and budget and meet your styling at the same time. Adding more, it adds beauty and value to your home and guides you to the path of gutter glory.
Aluminum gutter comes in various styles to fit your taste with a series of designs and colors. It adds distinctive highlights not only in the color and beauty to the home but it also outlines the roof lines and enhances more architectural details. In order to have excellent results, it is necessary to consider the slope of your roof and how much rain you typically get in your area. With Aluminum gutter you are assured that it holds more water compared to other types of gutters especially during heavy downpours. This material is noted for being incredibly durable and it resists thinning over time. The longevity of this product has been proven. More so, it will stand up to the weather and strong enough to last for many years.
Most homeowners have claimed a seamless aluminum gutter has an added factor that gives more appealing appearance from the curb while remaining fully functional and effective. With so many features, it adds more class on style and its home exterior on top of the beauty and it guarantees a quality and lasting results.
For more tips on Aluminum gutter, contact Custom Insulation Company.