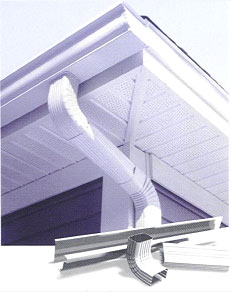 As many people have claimed, aluminum gutters are the best way to go for your rain gutters. It will last a long time. It will extend the benefit for years that will create an envy-worthy design of your home and home value aluminum rain gutters will contribute in maintaining the integrity of your home as you want it to look good for your home design and choosing the best material for creating a beautiful home and within your budget.
aluminum gutters will give the best for your home. Since it is lightweight, rust-proof and easy to work with, aluminum gutters are weather-resistant and maintain its integrity in cold climates. Its aesthetic appearance is due to the characteristics that aluminum holds paint thereby making it more attractive in style. Its quality as primary aluminum is thick and of a higher quality standard material. And when it comes to long-lasting protection that withstands the various elements that come year after year, most homeowners are installing seamless aluminum gutters.
Seamless aluminum gutters are the perfect outdoor supplement outside of your home structure or property design. The material is inexpensive and within affordable limits and has a broader use when compared to other gutter styles. It is the favorite of most contractors to install on an investment property. An envy-worthy design of all time that others desire.
For more tips on Insulation, contact Custom Insulation Company, Inc.