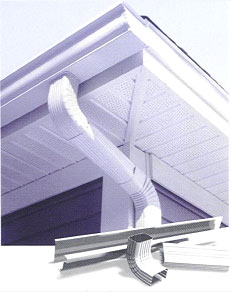 The appearance of a home makes the first impression. The first impression is often the lasting impression. Most homebuyers understand that they need to choose homes with funcitonal and attractive gutters and downspouts. Without a properly functioning gutter system, a home structural integrity is at stake as is it's landscaping.
The functionality of aluminum gutters increases home value. There is good reason why homes today need proper gutters. While aluminum is less expensive than other options, it has long-term strength that make this material the ideal the choice for many households. As claimed, aluminum gutters can last for 20 years or more with proper maintenance and consistent cleaning. Fashionable seamless gutters can be customized for individual homes and still remain in budget with a variety of styles, sizes, and colors to choose from.
Choosing aluminum gutters will help preserve structural integrity, roofing, landscaping and perserve an attractive home. Aluminum gutters maximize return on investment in their homes with the right material selection, installation, and add-ons.
For more information on aluminum gutter systems, contact Custom Insulation Company, Inc.