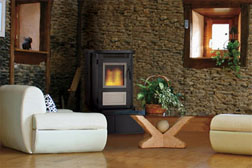 This winter is predicted to be very cold. Many homeowners have heard of the virtues of adding a fireplace insert or wood stove to their home. But, many homeowners don't want to deal with wood burning fires. There is a solution.

There are alternatives to heating your home without compromising warmth, comfort and convenience. Pellet stoves are very efficient in keeping entire homes warm even on very cold days.

Pellet stoves look like wood burning stoves. As well as being efficient and using renewable energy, this is where the similarities end. Pellet stoves are actually far more efficient than wood burning stoves. As a result their popularity is increasing.

Forget about stacking and hauling wood. Pellet stoves are powerful, with fully automatic pellet heat, advanced technical features and customizable style options which all combine to create reliable warmth and timeless beauty.

For more information on an exceptionally effective and practical way to heat your home with a pellet stove, contact Custom Insulation.