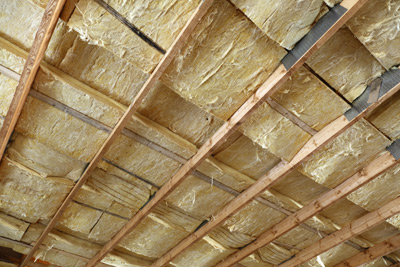 When considering insulation for a new residential construction, strongly consider blanket insulation. In past years, batt or blanket insulation has proven its ability to make buildings and homes more energy efficient, reduce utility costs, and increase occupant comfort. Other attributes have given it a new reputation as the leading insulation material in today's green building projects.
Knauf EcoBatt Insulation are thermal and acoustical products made from highly resilient, inorganic glass fibers bonded by a thermosetting resin. The products are available unfaced or with kraft, foil, or flame-rated FSK-25 (Foil-Scrim-Kraft) foil facings.
Knauf offers a full line of standard and high-density batts and blankets with a wide range of sizes and R-values. Available unfaced, or with kraft or flame-rated (FSK) foil facings, Knauf's residential insulation can be used for cavity walls, floors, ceilings, attics, basements, and crawl spaces. It is highly resilient, recovering quickly to full thickness. It also greatly reduces the transmission of noise in the house.
For more tips on insulation, contact Custom Insulation Company, Inc.