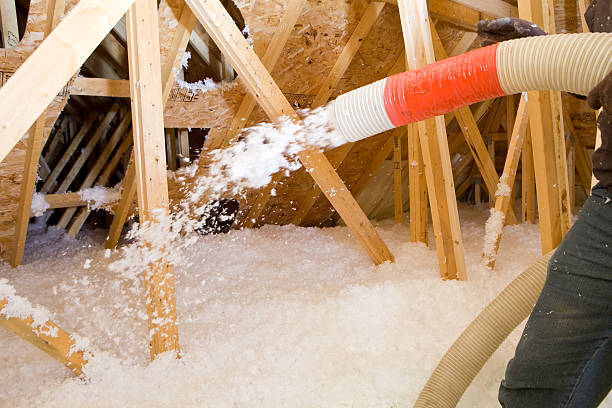 Home attic insulation is as important in the summer as it is in winter. It helps keep hot air from entering the home where the walls meet the ceilings and through recessed light fixtures. In order to achieve optimal comfort with great efficiency this coming summer, sufficient insulation needs to be in place in the attic and throughout the home.
There are many types of insulation. Blown-in attic insulation is remarkable at reducing energy expenses and lowering heating and cooling costs. Cellulose is blown into tiny cracks and crevices in the attic to seal walls and light fixtures and to seal cracks. The right amount of R-Value means lower bills year-round. It also fills in irregularly shaped spaces. This is how it seals cracks and acts as a barrier that prevents unwanted air transfer to keep treated air from escaping. This allows the heating, ventilation and air conditioning equipment to run less frequently all year long preventing overuse.
Creating a cool and comfortable living space is possible with blown-in insulation in Boston, MA. The cost of investing in efficient and effective attic insulation is worth the decrease in energy bills. In just a few years the insulation will pay for itself through energy cost savings. Considering that half of household expenses go to heating and cooling, attic insulation is actually relatively inexpensive. It reduces heating and cooling bills, gives the HVAC a break, and most importantly improves the comfort of the home.
To find out more about blown-in home attic insulation, contact Custom Insulation Company, Inc.