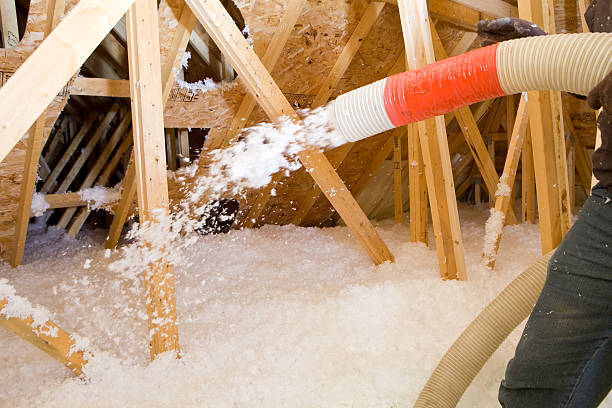 Have you ever have damage to your home from ice dams? Chances are you know someone who has. Ice dams are caused because home insulation is insufficient. To reinforce your current home insulation, blown-in insulation is ideal because it is quick to install and completely fills gaps and the tiniest holes and cracks. It can also be installed over existing batt insulation.
Icicles and ice dam formation is a result of excessive heat escaping from your home. The heat melts the snow on the rooftop. This melted snow refreezes again at the edge of the roof forming ridges of ice. A poorly insulated roof permits too much heat loss which explains. This is why the right amount of home attic insulation can prevent this issue. Blown-in insulation in Worcester, MA can effectively fortify existing insulation and prevent heat loss and air leaks.
Blown-in insulation can provide full-coverage over all the nooks and crannies of your attic and will even seal wires and cables. It can durably bond to wall and ceiling surfaces. It won't only prevent ice dams but it can help your home heating and cooling equipment work more efficiently all year long.
Let the home insulating experts do their job, contact Custom Insulation Company and prevent ice dams from damaging your home this winter.