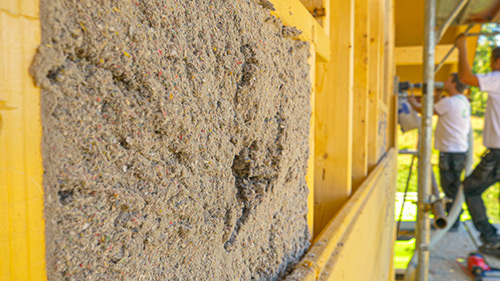 Blown-in attic insulation services here in Hebron, CT offers you a path to comfort and energy savings that will make a difference in your lives. Blown-in insulations solutions offer a proven ability to insulate behind walls, wires, pipes, and other hard-to-reach places. The long-term benefit for return on investment is amongst the highest in the industry.
If you need additional home attic insulation, or insulation for new construction homes, you can actually save money by choosing blown-in cellulose insulation. A team of custom insulation specialists will address the installation to ensure that every part of your attic that needs to be insulated is covered.
Once the blown-in insulation is installed, your home will have an increased value and be energy-efficient, noise-proof, and moisture-free. And, blown-in insulation lasts longer than other alternatives when installed correctly. Additionally, the material used in blown-in insulation is proven safe and does not irritate the human skin.
You can also ask the Custom Insulation project estimators to provide you with a free written proposal for your specific application. To find out more about blown-in attic insulation, contact Custom Insulation Company, Inc.