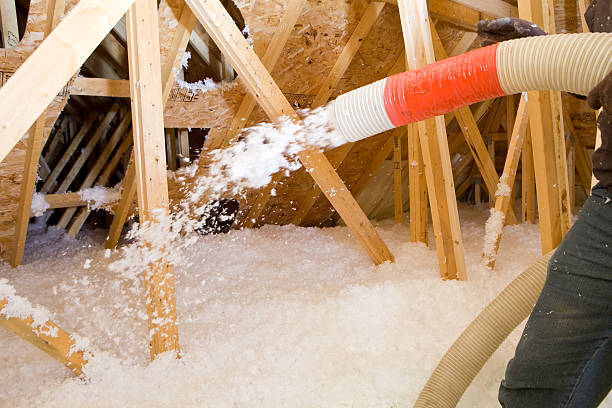 Increasing your home attic insulation levels is a great way to make your home comfortable, reduce energy costs, and save money. The better insulated your home is, the more money you can save on heating and cooling bills. There are many types of home insulation, each with their own properties. Blown-in insulation is one of the most energy efficient types of insulation available today. This can be the ideal choice for your attic insulation needs.
One of the biggest advantages of blown-in attic insulation is that it also offers good air quality and consistency in your home. It can create cleaner air because it prevents moisture build-up and blocks harmful molds from forming in your attic. Blown-in insulation also creates more consistent air temperature in your home. Since this is more airtight than standard insulation, it is a better barrier to outside allergens. Small crevices and tight corners are better sealed because the material can easily form to and fill small spaces. Although installing blown-in insulation is more expensive than standard batt insulation, it will make it's cost up in saved money through smaller utility bills in the long run.
Installing blown-in insulation in Boston, MA offers a number of advantages for your property. Hiring an insulation professional to do the job ensures the proper installation which can deliver great results for years to come. With the right equipment and insulation knowledge and experience, these processes can be done faster, correctly, and easily.
To find out more about the benefits of blown-in insulation, contact Custom Insulation Company, Inc.