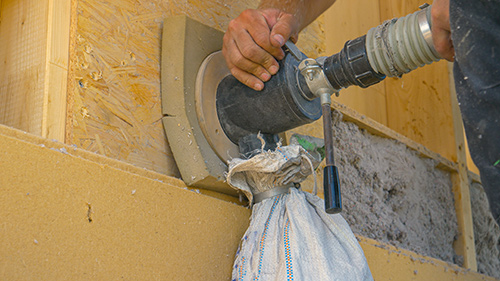 Blown-in insulation is the fastest growing home insulation system of choice. This insulation provides a thermal blanket for your home. The blown material is very flexible such it seals all those hard-to-reach places and tight crevices that other insulation will not. Blown-in insulation offers high performance and value.
Many homeowners prefer blown-in insulation because it saves energy. The material locks in cooler indoor attic temperature during hot season and prevents heated and cooled air from leaking out. It effectively seals even tiny cracks and crevices that enhances HVAC performance and increases indoor comfort and ultimately saves energy. Many claim that their energy costs are reduced by almost 50% after using this insulation and that the installation usually pays for itself in two to four years. There is an advantage in using blown-in insulation because it reduces the risk of fire by creating an airtight seal. This seal keeps air from flowing through small spaces into a fire and stoking the flames. Further, it is recommended that installation will be done by qualified professionals because the material will seal wooden cross beams, electrical wiring and plumbing pipes in order to create a seamless protective covering.
Blown-in insulation creates a tight seal in the attic that lowers indoor noise from one room to another. It gives tremendous soundproofing benefits. The sound buffer will lessen outdoor noise. Overall, noise reduction will make your home feel more peaceful, quiet, comforting and safe.
For more tips on Blown-in insulation, contact Custom Insulation Company, Inc.