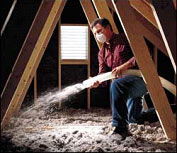 Now is the time to start preparing your home for the cold. No homeowner in Massachusetts want the cold air seeping in through cracks or holes, particularly in the attic. Fortunately, it is not too late nor is it too hard.
Our winter's get very cold. Sometimes it seems there is no way to combat it. This is why homeowners can cold-proof their homes by installing or upgrading their home attic insulation.
Blown-in attic insulation can effectively seal small crevices, wall cavities and cracks. It can also supplement existing insulation. This can help homeowners combat high home heating bills all winter long.
Professionally installed blown-in insulation in Worcester, MA is a cost-effective way to minimize energy consumption while keeping a home comfortable. Compared to other insulating materials, blown-in insulation significantly prevents cooled air from entering the home and prevents heated air from escaping.
To find out more about blown-in insulation, contact Custom Insulation Company, Inc.