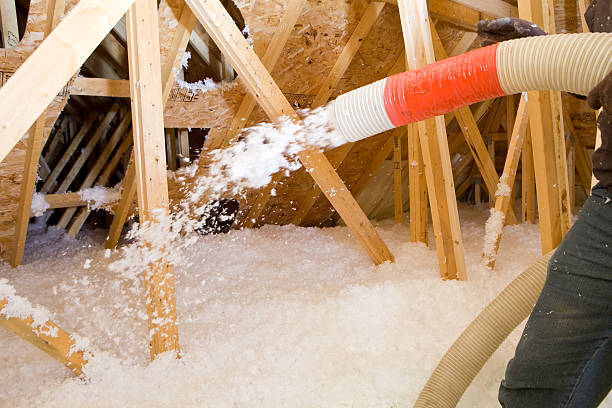 Giving proper insulation to a new or old attic is one of the simplest ways to keep a lid on your cooling bill now and your heating bill next season. It will save you money. Blow-in cellulose insulation is a favorite among homeowners who prefer green products, since the material is made entirely from recycled paper and wood products, with few synthetic processes or chemicals involved. Blown-in insulation is the new way to insulate your house.
With blown insulation, it is used to reduce building heat loss and gain and reduce noise transmission. It greatly reduces energy expenditure, lowering heating and cooling costs. It is also moisture resistant, so it prevents molds, odors and rot from creeping into your home. Since it is made from recycled newspaper, cardboard and other wood based materials, blown-in cellulose is treated with boric acid and other substances that make it flame resistant and mold-resistant. In addition blow-in insulation is widely considered the best means of adding insulation in existing construction both for attic spaces and in wall cavities. In addition blow-in insulation offers a much faster way to significantly improve your attic insulation. In about an hour or two, an installation specialist will blow a thick blanket of loose insulation across the floor of the attic using a single hose run up through the attic hatch. And for wall cavities, blow-in insulation is the only practical way to improve the R-value of stud cavities.
In addition, working from home is becoming a norm nowadays. It saves you from transport hassle and you will work from the comfort of your home. However, the distraction due to noise is a major hindrance. It reduces your work output and decreases efficiency. We have a solution for you. Utilize any of the blown-in products or spray foam to insulate and reduce noise distractions.
For more tips on Blown-in insulation, contact Custom Insulation Company, Inc.