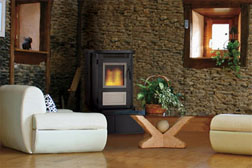 If you bought a pellet stove in 2012, or if you are planning on buying one this year, then you can qualify for the Federal Tax Credit for Pellet Stoves of up to $300.

Last year's tax credit has been reinstated for 2013 and is retroactive for 2012. So if you are interested in buying a new pellet stove to cut down on your heating expenses, and it is at least 75% efficient you can receive up to $300 back.

The biomass stove federal tax credit allows for a 10% tax credit up to $300 for stoves bought in 2013 and it is retroactive, so that all eligible stoves purchased in 2012 can also get the credit.

if you are interested in a new pellet stove for your Worcester home, contact Custom Insulation.