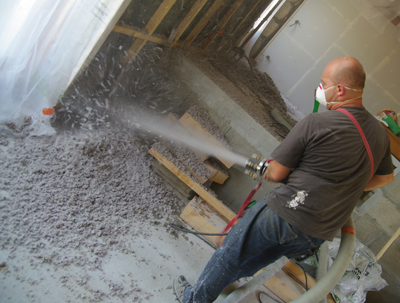 Utmost importance of a home is its thermal protection that controls durability and gives maximum comfort that will not strain your wallet. Cellulose insulation is an affordable the thermal solution that is worth considering whenever insulation is concerned.
Homeowners have enormous selections in getting good quality insulation. It comes in many forms like plastic foams, rock wools, cellulose and some are cotton insulation materials. Wet Spray Cellulose insulation is the smart choice because it is a superb air-blocker. The tightly packed cellulose will provide a thermally efficient, cost-effective, and comfortable solution that will block the heated air mass and expel it from the home. Many contractors confirm that cellulose is fire-safe as compared to fiberglass. The tightly packed cellulose blocks air better and prevents the spread of fire through framing cavities. This makes this insulation the favorite of homeowners because it provides greater resistance to air leakage compared to fiberglass.
On top of all, many homeowners are claiming that cellulose has the superior air-tightness and absorbent qualities that provide a peaceful indoor environment. There are no voids left in the walls and all wires and plumbing perforations are totally sealed. Overall, cellulose insulation is remarkably airtight, convenient, energy-efficient, and safe.
For more tips on cellulose insulation, contact Custom Insulation Company, Inc.