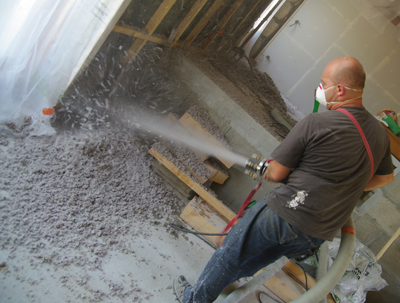 We're here today to inform you just how effective and affordable cellulose insulation is as a choice to insulate your Worcester home.
Cellulose will not rot, decay or rust and it retards fungus and mold growth. It is non-corrosive. Cellulose insulation is manufactured from recycled paper which is the least polluting and most energy-efficient insulation. It is a comparatively long lasting insulation material.
Installation is vital in determining how insulation performs in your home because it will be assessed how well it fits in different sizes of wall cavities and surrounding the countless obstacles. Normally the walls, ceilings, and floors of your home are full of odd-shaped cavities and obstacles like plumbing, air ducts, and wiring. And for insulation to work effectively, it must completely fill around these barriers without gaps or voids. It is claimed that the effective R-value of Cellulose increases during cold weather. Compared to the R-value of other insulation like blown fiberglass it drops during cold seasons. And once your home is cellulose insulated, your utility bills will totally decrease. Unlike fiberglass, it offers no relief especially during the summer season because the R-value withers.
Adding more, cellulose home insulation helps keep your home warmer in the colds due to its R-value improving, cooler in the summer because it blocks air infiltration and saves you money. This insulation is being sprayed or blown into walls, conforming to your home, and surrounding you and your family with a consistent insulation system. It ensures full comfort since it has better resistance to airflow and prevents the upward movement of air caused by temperature differences. Lastly, there are no detrimental health effects from cellulose insulation that have ever been identified.
For more tips on different home insulations, contact Custom Insulation Company, Inc.