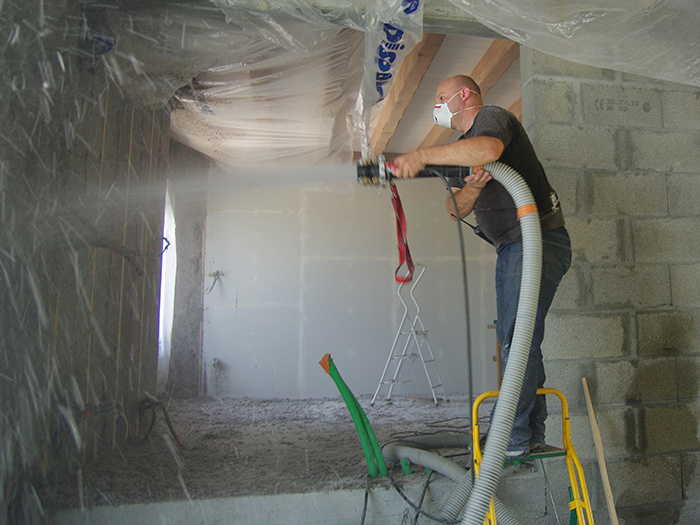 One leading factor of a well-insulated home is its material used. It is important that choosing the right insulation material is highly considered in insulating your new or existing homes. After the best material is selected, come the quality of the installation which is very crucial. Hence, in order to have an efficient insulation it has to be given utmost thorough preparation that will surely create your own cocoon of comfort in your home.
Wet Spray Cellulose Insulation is considered an exceptional air-blocker. Once it is tightly packed it provides thermal efficiency and gives an element of surprise in the cost. It is the best solution for a safer and comfortable home because it provides a green and affordable thermal solution that is highly recommended. It is made from a recycled paper products wherein the processing content is secured by adding the mineral borate to ensure fire and insect resistance. If used in an existing structure, the installers normally remove a strip of exterior siding, and the filler tube is inserted to the top of the wall cavity. In this process, it blows the insulation into the building cavity. After installation, it is sealed with a plug and the siding is replaced and touched up to match the wall. And for new structure insulation, the cellulose is installed through damp-spray with an amount of moisture added to adhere to inside the cavity.
The thermal protection of the home is crucial as it gives comfort to the homeowner. With a good choice of cellulose insulation, it monitors the durability, its cost, and ultimately the fire-safe quality it provides. Though there are various insulation materials in the market cellulose is by far the top challenger that provides great resistance to air leakage and in turn provides the best thermal comfort for your home.
For more tips on Insulation, contact Custom Insulation Company, Inc.