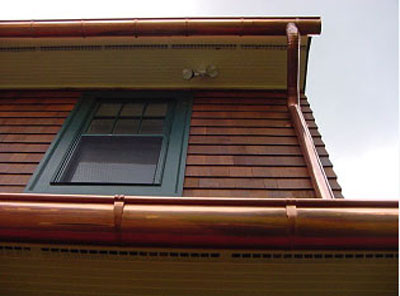 One of the most common problems homeowners have with their gutter system is failed downspouts. We resolve downspout issues by installing copper gutter downspouts in our gutter service solutions. Copper downspouts are a critical component to a gutter system's ability to drain water safely away from your home. This is the portion that is installed between the gutter and the drain pipes Copper downspouts are elegant and functional and are meant to be shown off. Having a copper downspout on your home is ideal for most areas where there is a lot of rain and you want to make sure that water drains properly.
Additionally, copper downspout is an ideal functional component because the areas that take the water from the gutters move down and out to a drainage area. There are problems encountered by others because the irrigation in their home is not suited as the water flows fast. This is where copper downspouts offer the most efficient function in your home. Moreover choosing copper downspouts without seam is highly recommended. The advantage of seamless copper downspouts is that it holds up much better in severe conditions because hot and cold conditions have a tendency to make seams expand and contract. Though a little more expense is up front, it will save you money along the way. And once the installation is done well, your gutter system will last for the life of your home.
One of the reasons people uses copper downspouts is to break up the water into smaller flows. This is ideal if your ground does not absorb water flow quickly since the slower pour allows time for the ground to absorb the water instead of causing a stationary pool. The copper downspout performs a multi function from protecting your roof and the exterior of your home from rain and moisture while providing effective drainage. Copper gutters are long-lasting and will be a good investment for your home value. Further it offers the long standing appeal that is perfect for a high-end home.
For more tips on copper gutter system, contact Custom Insulation Company, Inc.