There are so many reasons to consider copper when you are considering gutters for your home. Visually copper gutters are very versatile, they look great and fit in visually on any style home, from period Victorian homes to contemporary. The color of copper gutters naturally changes over time, and in many ways this is part of their visual appeal.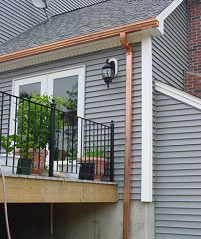 Copper gutters are one of the most durable forms of gutters on the market. When you are thinking of installing copper gutters on your property, consider Custom Insulation Company. They will analyze your property from every perspective in order to get your new gutter system performing at an optimal level for water proofing.

When you are considering a gutter system for your home, of course your main concern is what will perform the best regardless of the intensity of the weather. With copper gutters you will have the peace of mind that comes from knowing you have one of the most resilient materials protecting your rooftops, siding and brickwork.

And of course, your next concern is appearance. Copper is a distinctive choice and that is visually striking. They will be a gorgeous and functional addition to any property; it's little surprise that they are one of the most commonly purchased types of gutters on the market today.

Gutters are available in different materials and it comes down to a matter of personal preference. Copper has what many homeowners require from a functionality, aesthetic and performance perspective. Speak to Custom Insulation about a copper gutter rainwater system if you are thinking of changing the guttering on your home.