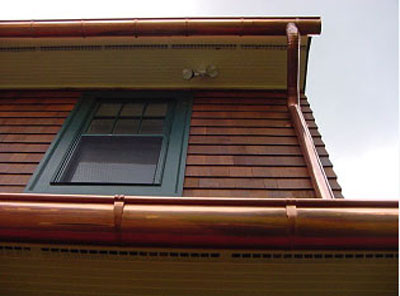 There are many options for gutter systems. However, copper is gaining popularity among many homeowners and home builders due to its supremacy over other materials in terms of sustainability. Copper is considered as a sustainable material with its production process that requires lesser impact to environment.
The fact that only 12% of copper reserves are mined and processed for different purposes and roughly 55% of the copper utilized in architectural applications is recycled, make copper gutters the most greener product in use for home gutter systems. Aside from this characteristic, copper rain gutters have remarkable strength that can provide water damage protection to your home which could last a lifetime. This means the upkeep for this home accessory is incredibly low cost.
The use of copper gutter system minimize the usage and production of PVC gutters which process is deleterious to environment. Furthermore, copper gutter system can thwart algae and fungi, thus it does a great job keeping moss growth at bay. This means lesser factor for gutter blockage issues. To find out more about copper gutters, contact Custom Insulation Company, Inc.