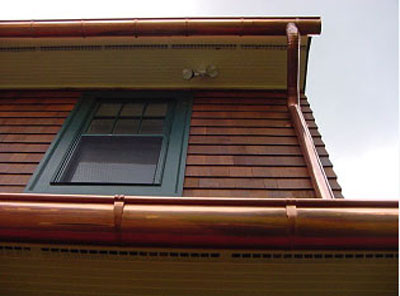 If you are thinking of placing your home on the market this spring, give it an edge over the competitors and make it standout by improving curb appeal. Homeowners can also increase the value of their home when curb appeal is enhanced. What is an easy and unique way to get your home a better market price? Install copper gutters.
Copper gutters in Worcester, MA are functional and will add up to the aesthetic appeal of your home. Gutters protect the structure of your home from water damage, but copper gutters offer more strength, sustainability, and beauty. Copper rain gutters will last for the life of the home and will remain beautiful and unique as well. They are by far the more sustainable product when compared to other gutter system option. Additionally, copper is a naturally fungus and algae resistant which translates to less maintenance and upkeep.
Copper gutter systems are a bit more expensive than other gutter materials but they offer far more advantages, making them worth the money in the long run. In fact, copper gutter systems are a more practical and cost-effective gutter solution,
To find out more about the benefits of copper gutter systems, contact Custom Insulation Company, Inc.