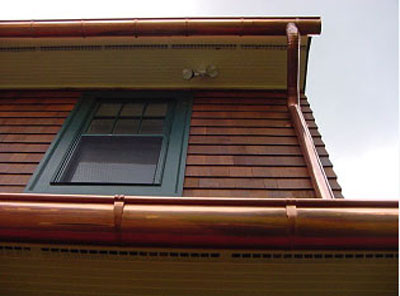 If you are building a home or remodeling your existing home and are trying to make green construction choices, know that the "greenest" choice for a gutter system is copper gutters. Why? Because copper is one of only a few materials that are fully sustainable. Only 12% of the copper reserves have been mined and most of what has been mined are still in use. It is also estimated that 55% of all the copper used for architectural purposes today is recycled.
Copper is an incredibly durable building material, which makes it an excellent choice for parts of home construction that will be subject to excessive wear and tear. Your copper gutters will last at least 100 years. Once you install them in your home, you will never replace them. There is no other gutter system or gutter material that you can say this about. Although the price of copper gutters is more than aluminum, your aluminum gutters will not last nearly as long and will incur far more maintenance and repair costs.
Copper gutters are virtually maintenance-free. Although a copper gutter system will require the regular debris removal that all gutter systems occasionally need, copper gutters will not need to be repainted or replaced over their lifespan. With the natural properties of copper gutters that work as a fungicide and algaecide, they also naturally eliminate one of the biggest causes of clogged gutters: moss.
For more information on copper gutters for your Boston or Worcester area home, contact Custom Insulation Company, Inc..