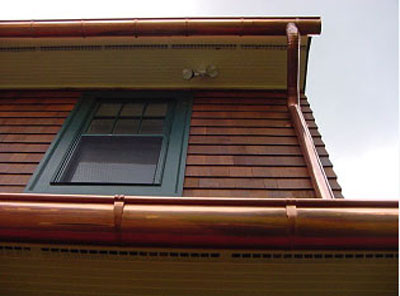 Are you building your future home and in the middle of an endless decision making process? One of the many decisions you need to make involves what type and color of gutter system to install. One of the tried and true gutter systems chosen by a high percentage of new home buyers is copper gutters. This is an overall value and long-lasting gutter solution.
The longevity of copper is a primary draw. Copper remains fresh and attractive given its rust-proof nature and the fact that copper actually becomes increasingly visually appealing with age. With a copper gutter system you will be comparatively insured against maintenance costs and repairs because this system statistically is one of the most self-maintaining gutter solutions on the market.
For more information about copper gutters and/or the cost/benefits of all your gutter options, contact Custom Insulation Company, Inc.