It really is essential to have a gutter system especially in the Boston area. Having gutters will prevent all sorts of harm from the roof all of the way to the basement. Rain gutters will prevent costly water damage. One form of gutters we offer that are fairly popular are the copper gutters.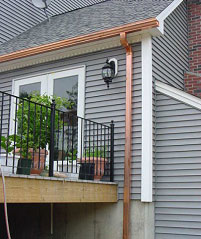 Copper gutters are excellent to have for numerous factors such as the fact that they'll never rust or rot away. What ever the weather happens to be, this gutter type will withstand it well. Copper gutters add a distinctive style and flare to your house. Their style is right away noticeable and recognizable. It adds a sense of visual appeal that can only be discovered with copper. It's really more valuable than other materials, and adds an even higher value to your residence. You won't have to maintain them as much as aluminum or vinyl, but they do require some upkeep. The one area you will only want to keep an eye on is with oxidation. Copper gutters will oxidize and turn green over time unless you treat them. There are methods to preserve the shine including by utilizing sealants, but it is not needed.

On the other hand many people prefer the greenish look, particularly in older homes made from stone or stucco. There's an exclusive appeal or look to it that's only developed with time. You'll see them on homes that grow ivy as well. All of these features pretty much mean that you're going to pay a bit more for copper gutters. The positive side of that is you might be truly obtaining a product that lasts longer. You will also invest less time maintaining them. Contact us today to learn more about our gutter systems as well as our insulation methods and other fine services.