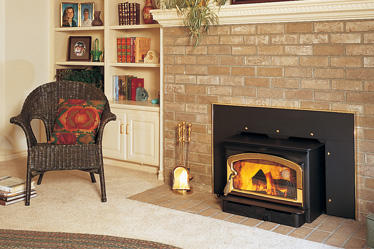 If you are remodeling or building a home in the Worcester area, add a fireplace insert. Homebuyers love a working fireplace and they also love efficient heating solutions. A fireplace insert is considered a plus to home buyers, thus increasing the value of your home.

Gas or wood burning fireplaces inserts bring many advantages to your home. Wood inserts is considered a renewable energy source and is a very economical way to heat your home.

Gas fireplace inserts are generally easier to use with less mess and effort. But, whichever fuel source you choose to run your fireplace insert, one thing is certain; working fireplaces add atmosphere and ambiance to any home.

New home buyers love the idea of a working hearth and they make your home more enticing. If you are remodeling for your own enjoyment, a room with a burning fire adds a whole new dimension to entertaining. Contact Custom Insulation for more information.