Gas and wood fireplaces and gas and wood fireplace inserts are a great and easy addition to any home. And the benefits are many.

By keeping the heat in your home rather than sending it up the chimney, a fireplace or fireplace insert provides soothing warmth. You deserve a nice relaxing fire when you get home from work and a fireplace insert will give you just that.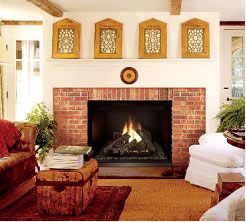 What's more? When you decide to sell your home, you'll find that a working fireplace or fireplace insert adds value. Home buyers today love a working fire.

The Hearth, Patio and Barbecue Association sites that adding a fireplace can add up to 10.8% to a home's total value and the National Association of Home Builders lists a fireplace as one of the twelve factors that greatly impacts the value of a standard home.

Adding a fireplace insert to your home is not as hard as it sounds. At Custom Insulation, we can show fireplace inserts by Lennox are the very best in gas and wood burning fireplaces. Regardless of your décor or your heating needs – there is a fireplace from Lennox that will fit your home perfectly.

So you don't have a chimney? No problem. Where do you want your new fireplace? As long as it is on an outside wall, we can vent it.

Contact Custom Insulation for assistance in viewing fireplaces and fireplace inserts for your home.