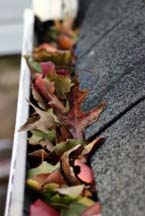 If you think a few leaves and twigs in your gutters are harmless, think again. Regular gutter cleaning is the single most important key to avoiding major and expensive home repairs.

Gutters perform one duty: controlling the water around your home. If debris keeps gutters from doing their job, you can wind up with some serious problems. Here are just a few:

Clogged gutters are the number one cause of basement water problems. When gutters are clogged, roof water overflows and accumulates around the foundation. If this happens, basement leaks can be right around the corner.

Water backing up from clogged gutters will cause moisture damage to the wood fascia around the house. The rotted area will quickly get worse if the leak is not eliminated by cleaning the gutters.

Misdirected and clogged gutter spouts often cause driveways and walks to sag and crack.

Any newly planted flowers, plants, grass or trees can be killed by excess water from clogged gutters. Overflowing gutters can also cause erosion and put an early end to young plantings.

Bugs love moisture. Keeping gutters free of clogs and keeping the soil dry around the foundation perimeter can force bugs to go elsewhere rather than snack on your dampened two-by-four.