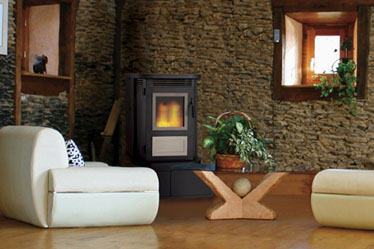 Are you remodeling your home or building a new home? If so, consider adding a working hearth or fireplace. Pellet stoves are easy to add because they don't need an actual brick and mortar chimney. Pellet stoves can be vented out the side of your home from any wall. We know it is July, but at the rush and look at pellet stoves now, while no one else is thinking about the. When it comes time to finally sell your home, you 'll find that buyers are interested and will pay more for a working fireplace.

A working fireplace increases your home value, because it is considered a plus to home buyers. But it also decreases heating costs, which makes your home even more attractive to prospective buyers. So, while you may be remodeling your home for your own enjoyment, remember to consider resale value along the way.

Fireplaces and stoves that are fueled by pellets have many advantages. The fuel used to heat your home is a renewable resource; pellets are easy to use, easy to transport, easy to budget; pellet heat is far less expensive than oil.

If you're goal is to save on heating bills and to make your home more energy efficient, pellet stoves are a perfect choice. Buyers will agree as well. Pellet stoves can also be set to be used with thermostats, and can be lit with a flick of a switch. When it comes to a burning fire, you can't get more convenient than that.

No matter what pellet stove you choose, a working fireplace adds atmosphere and ambiance to any home. For more information, contact Custom Insulation in Worcester.