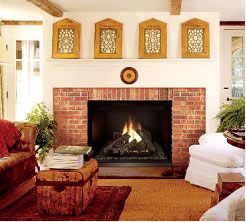 Now that fall is here, there's nothing better than curling up to a nice, warm fire, not to mention a well maintained, easy-to-use fireplaces is an attraction for buyers if you're thinking of selling your home.

A fireplace will help you keep cozy, and is energy efficient. If you're looking to add a new fireplace or upgrade an existing one, here are some options.

Wood burning fireplaces are great for those who love an open fire, burning wood and the sound of crackling logs. And, there are efficient and beautiful advanced wood-burning fireplaces available. They emit less smoke than traditional wood-burning fireplaces and distribute heat better in your home.

Electric fireplaces are the perfect way to set the mood, and temperature, at the flick of a switch. They are safe, convenient, low maintenance and cost little to install. Electric fireplaces won't add to the value of your home like other types of fireplaces, they are great for small spaces, apartments and condos and don't require a chimney or outdoor venting.

Gas fireplaces are popular options because they are clean burning, efficient and don't require a chimney. Like electric, gas fireplaces can also be turned on by a switch and controlled with a remote. They replicate the flame of real wood-burning fireplaces, gas is more energy efficient and you won't need to worry about cleaning up wood chips or ashes.

Interested in a new or upgraded fireplace, contact Custom Insulation Co.