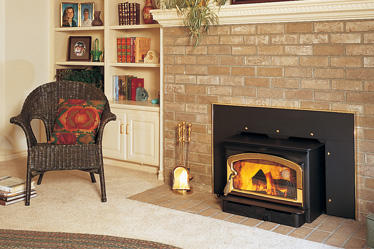 Wood burning fireplace inserts are a great way to heat your home. They give you the beauty of a wood fire, with the added advantages of a wood burning insert for better efficiency. With all of the choices today in wood burning fireplace insert styles, a new wood burning fireplace insert is the perfect choice to heat your home during cold Worcester winters.

If you have been thinking about buying a wood burning fireplace insert, now is the time. Oil and gas prices are skyrocketing and winter has only just begun.

Wood makes a beautiful fire. Wood burning fireplace inserts can heat your whole home all winter, so no more heating bills. Or, wood fireplace insert scan help supplement your home heating so you use less oil or gas heat throughout the winter, giving you smaller, more manageable heating bills all winter long.

The wood burning fireplace inserts manufactured today have much higher standards too, with higher EPA ratings than in the past.

Wood burning fireplace inserts will keep you warmer this winter, reduce your heating bills, add atmosphere to your home and increase your home's value. What have you got to lose?

Click "fireplace inserts" to contact Custom Insulation about which wood burning fireplace insert would be best for your home.