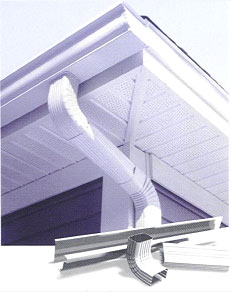 If you are looking for something to give functional protective effect and genuine aesthetic appeal to your home at an affordable cost, strongly consider new aluminum gutters. New gutters are a hugely important home protection investment as the damaging effect on a home's foundation can be brutally expensive to fix.
Aluminum gutter systems are a popular and highly recommended gutter solution. Aluminum is a high-quality metal that stands up to the tests of time. They are lightweight, rust-resistant, and elastic giving you the chance to customize them and match with the design of your home. It gives an appealing beauty to your home especially if you paint it with color or a pre-colored option is available. Whatever you choose, the best finish will certainly give an attractive appearance and assures you that there are no leaky joints that will trigger any future damages in your home.
Further aluminum gutter does not require regular maintenance services because it is easy to clean thereby saving time and money. It is adaptable in whatever temperature changes and most of all, it gives an assurance of a well-functioning drainage system and gives long-lasting results.
For more tips on the aluminum gutter, contact Custom Insulation Company.