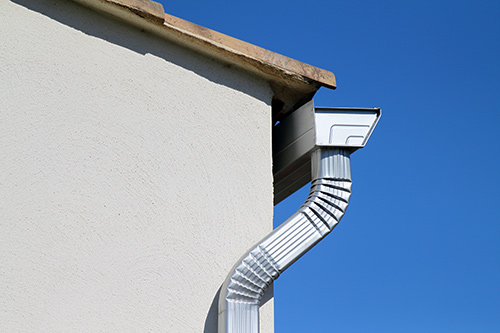 Many homeowners with aging gutter systems have a love hate relationship with their home gutter systems. You know you need them. They protect your home from excess water that pours off your roof during rain storms. The damaged caused by this excess water can ruin your fascia, soffit, foundation, landscaping and cause basement flooding. You often don't even think about your gutters, until you notice that they are failing, peeling or need to be cleaned. But now, they don't vent water as well as they once did. The paint is peeling. And they no longer add to the functional efficiency and the beauty of your home. What to do now? Turn to gutter professionals like us here at The Custom Insulation Company serving all of Rhode Island.
We're going to cover problems that many home owners suffer that you will avoid with our systems. Often times, poor quality aluminum gutters are painted and they peel. They may need to be cleaned one or multiple times each and every year. The down spouts get clogged with leaves and debris, and the gutters themselves collect everything from sticks and leaves to balls. We're going to fix that for you and make sure you don't suffer these frustrations ever again. With seamless gutters from Custom Insulation, you can escape these problems. These aluminum gutters are available in a variety of colors with baked on enamel to ensure beauty for years to come. No peeling! The WaterFall Gutter Guard System protects your seamless gutters from debris and the need to clean your gutters.
Our Aluminum gutters with the WaterFall Gutter Guard System, helps take the hate out of your relationship with you gutters. If it is time for you to replace or update your gutters, if you are simply tired of cleaning your gutters with the change of the seasons, contact Custom Insulation.