Besides the convenience of not being dripped on,
gutters
provide a useful and important function for the
maintenance of your home
. By channeling rain water to a central downspout and thereby away from your foundation,
gutters
help to prevent a slow but steady accumulation of moisture around the perimeter of your house. Over time, this can lead to foundation problems, leaks, or wood rot. If you were on the fence about
installing gutters
, remember that they can also provide
added value
to your home in more ways that one.
If you are installing
gutters
for the first time or performing gutter repairs, there are a few things to be aware of before you begin shopping.
Gutters
come in several varieties and materials. Each has its advantages and disadvantages. Maintaining gutters is one issue, then there are cost and aesthetic appeal to consider. We provide only the
best type of gutters for homes
, which we will go over in small detail below.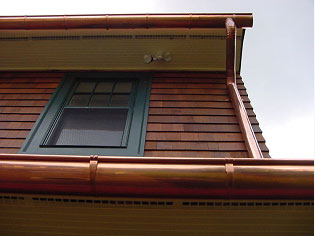 Copper gutters
are very strong and keep protecting your home for years. Many people choose
copper
for its visual appeal, as it can add a nice gold or patina piping to your home design.
Copper gutters
still protect homes from water damage, but look great doing it. There are many sizes available, from a standard 5 inch to much larger commercial grade 8 inch.
All copper gutters
consist of 16oz. per foot and are made from the highest quality copper available.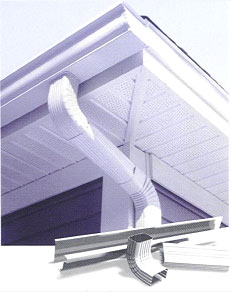 Aluminum
is a cheap install option and will work perfectly fine for several years. We offer seamless gutters in 5 inch and 6 inch sizes.
All seamless gutters
are made with .032 inch thick
aluminum
. They are available in a variety of colors with baked on enamel to ensure beauty for years to come.
If your house has no gutters or if the existing ones are showing signs of leakage or are pulling away from the house in places, do not let the problem get worse. Whichever gutter you choose to install will add value to your home and prevent future maintenance issues.
Contact us today
to learn more about our
gutters
and be sure to check out
our insulation methods
and
other services
we offer.