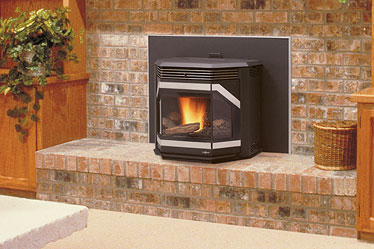 Massachusetts is expecting another stretch of extremely cold weather this week. It is only mid-January and there is a lot of winter left. The arctic blasts we have been getting all winter long this year have made getting a pellet stove insert installed in your home a great idea.
The cold weather has meant that this winter has been a long season of heating costs so far. Pellet stove inserts are growing in popularity. That's because they can be the main heating source for the whole home.
Pellet fireplace inserts cost typically cost between $1,000 to $3,000. However, they can pay for themselves in no time, especially if you have oil heat. Just the cost factor alone makes pellet stove inserts worth consideration. You're looking at maybe $5 per day, the cost of heating a house with a bag of pellets. And, pellet inserts are easy to use and easy to maintain.
When it comes to buying the pellets, they're available by the ton, which will keep your home supplied for quite a while. Additionally, the cost of pellets does not fluctuate which makes heating your home easy to budget.
Powerful, efficient and fully automatic heating combines with customizable style options to create the ideal pellet fireplace insert. Winslow pellet inserts deliver inviting, efficient and reliable heat in an attractive design that can be customized to complement your home décor. Ease of use and serviceability are designed right into this pellet insert with convenient features like easy access to components, a unique air wash system for maintaining amazingly clean glass and a self-cleaning burn pot. The heating technology provides the ultimate in precision heating and comfort control. Plus, with fully automatic operation, the Winslow works like a regular furnace, allowing you to set your desired temperature and walk away.
For more information on Winslow pellet inserts, contact Custom Insulation.
WGGB