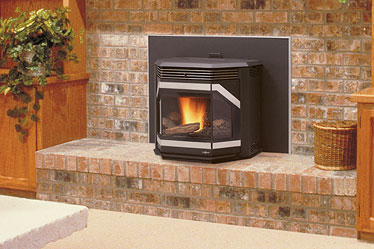 Interest in pellet stoves and pellet fireplaces is skyrocketing. Pellet stoves and fireplaces are green, efficient, economical, and beautiful. There are a couple of things to think about when considering buying a pellet stove or pellet stove insert for your home.

Do you want the new pellet stove or fireplace to heat your entire home, or just help heat a room or two? In order to purchase the right pellet stove or fireplace for your needs, you need to know how much space you want to heat. So how big is your house, or how big is the room(s) you want to heat? This will help you determine how many BTU's you need. The pellet burning stoves and fireplace at Custom Insulation come in many sizes with all different heating capacities.

The Winslow Pellet Stove is a great value. With this pellet stove, you can heat anywhere from 900 to 2000 square feet of living space. With great efficiency, this is an incredibly economical way to heat your home this winter.

Pellets stoves and fireplaces meet the demand for an affordable way to heat your home, without sacrificing important quality features. Our attractive pellet stoves and fireplaces are easy to use with automatic controls for thermostat operation.

Sit in your living room and enjoy an evening by firelight. But best of all, with all the various styles; as well as a pedestal base or legs, your new pellet stove can fit in nicely with your décor.

If you are interested in a better home heating solution, contact Custom Insulation today.