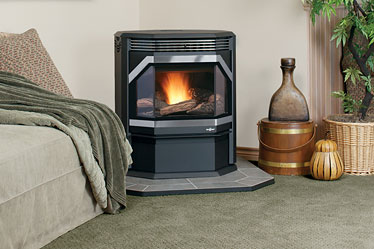 With another blast of frigid temperatures in Worcester, you may be wondering how you can keep your heating bill under control.
There are plenty of ways to save money while heating your home. The most popular alternative heating method is with wood pellet stoves. They are small pieces of condensed wood that are stored in pellet stoves, and gradually fed into a fire.
Pellet stoves give you a constant flame, lots of heat, and requires little or no adjustments. They burn hotter than open fireplaces which means they give off more heat, and they are easier to install than wood stoves or gas stoves because they can be vented through any outside wall.
Pellets stoves are in high demand because they are easy to use, easy to maintain and easy to budget. Custom Insulation can help you decide what size pellet stove you need based on how much space you want to heat. Pellet stoves can heat an entire home, or they can supplement you oil or gas heating system. Additionally, pellet stove retailers can tell you how much pellets you need to buy in order to heat that space all winter. This way, you can plan for your heating bill rather than get surprised by it each time fossil fuel prices rise.
For those who are using pellets, it's important to use high quality pellets, they burn hotter and create less ash, meaning less pellet stove cleaning.
A quality pellet is low ash, low moisture, and is considered a premium pellet. The price of low quality pellets may seem attractive at first, but higher quality is better.
Those pellets also burn cleaner and are better for the environment. Pellets are a renewable energy source and are a lot easier and nicer to handle than traditional firewood. This is another advantage of pellet stoves over wood.
For more information, contact Custom Insulation.