Did you know that for the 2011 and 2012 winter in Massachusetts they are already predicting higher than normal snow fall? Do you remember last winter? Add a pellet stove to your home before the start of winter for many reasons but mainly…warmth!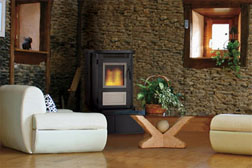 Lennox pellet stoves are powerful, with fully automatic pellet heat, advanced technical features and customizable style options which all combine to create reliable warmth and timeless beauty.

The Winslow pellet stove delivers inviting and reliable heat in an attractive style that can be customized to complement any home. Convenient features, ease of use and service are designed right into the stove. And with Smart Heat technology, an ideal room temperature can be set for consistent comfort. Plus, with a large variety of design features, the Winslow pellet stove can be personalized to reflect every style and taste.

The Montage pellet stove is truly designed for modern times. With four distinct trim kits, this pellet stove can be customized to fit nearly any decor. Because the large hopper and automatic feed system erases the need for steady fire maintenance, using the pellet stove is easy, convenient and economical. In fact, the Montage effectively burns standard-grade fuel, saving expense while delivering dependable, low-maintenance heat. This stove is the ultimate in modern comfort— beauty, efficiency and above all performance.

Contact Custom Insulation Company for more information on the purchase and installation of Lennox Pellet Stoves.