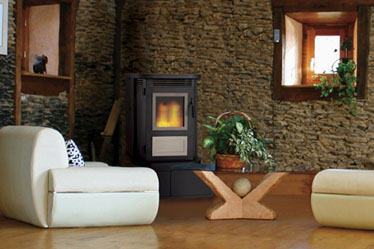 Pellet stoves offer an alternative means for heating your house. They are traditionally compared to the wood burning stove, because the heat they put out is similar, but there are those who believe pellet stoves offer some advantages over traditional wood stoves.

At the top of the list of advantages is the fact that pellet stoves are easy to load as compared to wood burning stoves. The pellets themselves are small and can be stored in a small space efficiently. Wood needs to be stacked and hauled, and needs a fairly large space to be stored. Pellets burn very hot so they burn very efficiently, because of this they create very little ash or waste.

The pellet stove hopper electronically feeds the pellets into the stove. The hopper can be programmed to evenly and consistently dispense the pellets, so in effect pellet stoves can be programmed to burn at an even rate and can remain at a consistent temperature over time. Many consider this the largest advantage because it allows pellet stoves to be very economical.

Overall pellet stoves can save people quite a bit of money in Massachusetts which is a region where heating costs are typically higher. If you are considering adding a pellet stove to your home, contact Custom Insulation.