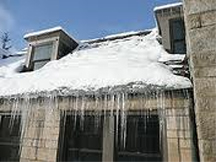 Ice dams are a result of too much heat loss from your home. Did you or someone you know struggle with ice dams last winter? Don't go through this winter what you went through last year; there is an easy fix, to prevent ice dams, really.

Proper insulation and roof ventilation can stop ice dams from forming, prevent damage and lower energy bills. Ice dams form when melted snow refreezes at the roof edges. They look pretty on the neighbor's house, but how do you stop them?

Three things are constant in ice dam formation: snow, heat to melt the snow and cold which refreezes the melted snow into ice. Ice dams can form with any amount of snowfall, even just 1 or 2 inches, if the roof is poorly insulated, and the snow is followed by days of freezing temperatures. It is true that deeper snow and cold temperatures increase the likelihood and size of ice dams. As snow on the upper part of the roof melts the water runs down the roof under the snow and refreezes into ice at the roof's edge creating an ice dam. Additional melted snow pools against the dam and eventually leaks into your house through the roof or trim.

The snow melts along the top of the roof, and not at the bottom of the roof because of heat loss from your living space. The top of the roof is right above where you live. Poorly insulated homes lose heat out of the top of the roof, thus causing the snow to melt.

The solution: insulate your home to prevent heat loss. Insulation stops the flow of heat from the house to the roof keeping your roof cold. Houses in Massachusetts should have ceiling insulation of at least R-38, about 12 inches of blanket insulation or cellulose insulation. Contact Custom Insulation Specialties for information on how to more properly insulate your existing home.