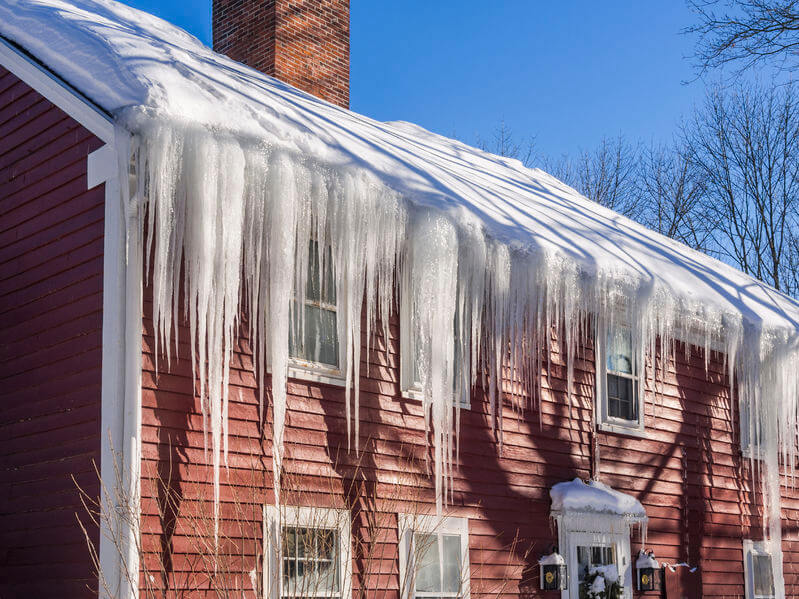 Icicles may be beautiful as they drip along the eaves of homes, but these pretty ice formations also tip off homeowners to an enormous problem building on the rooftop. Icicles are formed from melting ice and snow and turn into thick ridges of solid ice buildup. This accumulated ice along the edge of the roof is called an ice dam and they can cause extensive water damage inside and outside your home.
To prevent ice dams and icicles from forming, homes need to keep the attic and roof cold so that the snow and ice in the middle or top of the roof does not melt. Adequate home attic insulation keeps heat in the home and out of the attic. A cold attic will prevent ice melt so that water cannot run down to the cold edge of the roof where it will refreeze and create a dam. When you have the right R-Value of attic insulation heat is prevented from escaping to the attic and out the roof. A warm attic and roof is what causes the ice to melt, run down the roof, dam and cause water pooling which can get under shingles, siding and cause extensive damage to your home.
Blow-in insulation in Boston, MA is the perfect insulation that can be installed over existing insulation to prevent ice dams from forming. This insulation can perfectly cover cracks, leaks, and crevices and fill spaces around joists and rafters. Contact Custom Insulation Company, Inc. to ensure your attic is properly insulated for winter.