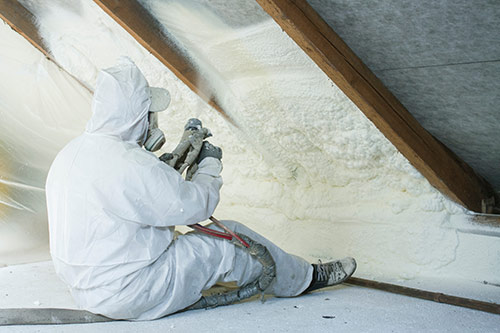 In choosing, which is the best among the insulations, spray foam insulation wins, hands down. Insulation helps maintain comfortable temperatures in your home and saves your money for more heating or cooling bills. The two types of spray foam insulation, closed cell and open cell, are both effective. It will last for a lifetime, however it depends on the installation, which has to be done by a professional installer.
These two types of spray foam insulation work in two different ways. Since spray foam is made of a polymer, when it is applied, it expands to fill in space. If you use the closed cell foam, it hardens as it dries. It will effectively block all air that tries to penetrate it. It will mean that you have better control over the home's internal temperature as well as the heating and cooling bills. In addition, this spray foam adds structural strength to the building. It is also resistant to moisture and mold. While the open cell foam is used, it stays soft and it absorbs air that tries to pass through it. It is usually less expensive and will not only be used as insulation but also help with sound reduction. Furthermore, spray foam will last a lifetime. It is a much more permanent and effective option. The more you pay the more upfront, the longevity and efficiency of spray foam make it a very cost-effective option. With open-cell spray foam, it will block sounds a lot more. Also, it will help to block pollen and dust too, which is great for people with allergies.
Using spray foam insulation is always a good idea. It is one of the most effective ways to insulate your home which has a higher effective rate of insulation compared to others and has an insulation value of around R-6.2 inch of thickness. Always remember the higher the R-value, the greater the insulating effectiveness. The adaptability of spray foam insulation is a solution to many challenges in construction projects and offers solutions where other types of insulation are unsuitable.
For more tips on Spray foam insulation, contact Custom Insulation Company, Inc.