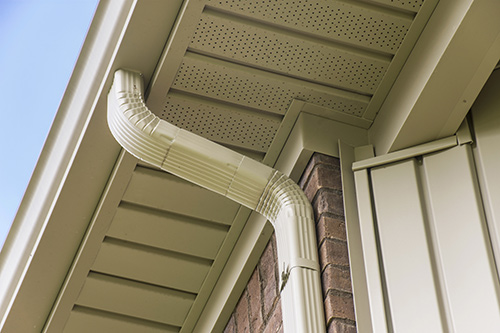 With all the rain, thunderstorms, windstorms, and the always threatening hailstorms, it pays to have your home protected by high-quality gutter systems. Given the recent volume of rain here in the area, now is a good time to conduct a quality control check of your home's ability to thwart the threats of water.
Do you have a basement? Has it been a while since you've gone down there? We highly advise that you grab a flashlight and take of tour of your entire basement. If you see any water at all in your basement there is a high degree of risk that a condition exists that threatens the long term health of your home's foundation. The exact same thing is true of your attic. Go take a look there as well.
If your gutters are not working properly, you could end up with water in your basement, water behind your siding, basement flooding or damage to your fascia, soffit, foundation, and landscaping. As you can imagine, all of these scenarios are bad for your home.
Protect your home with Custom Insulation's Seamless Gutters. Not only are seamless gutters more attractive, they are more effective as well. Seamless gutters are more attractive and more effective. If your home needs new gutters, contact Custom Insulation Company, Inc..