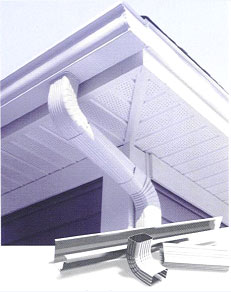 Aluminum gutter systems in Massachusetts are often the most popular choice for homeowners. Before winter starts, be sure your home gutter system is clean, clear, functional and well designed. Seamless aluminum gutters are the perfect choice for homeowners seeking a reliable system for their home.
Gutters protect the foundation, siding, roof, windows and all elements of the structural integrity of your entire home. Because aluminum gutters are malleable, meaning the aluminum can be hammered or pressed without breaking or cracking, it is one of the best materials for seamless gutters because it can assume the shape and corners of the exterior of a home.
Seamless aluminum gutter installation has a bunch of benefits for homeowners. Because they are seamless, the chance of leakage is entirely reduced. The absence of joints also helps significantly in preventing dirt or debris from accumulating and clogging them, inhibiting water flow especially during heavy downpours. This means they need less cleaning or repair. Less maintenance means less expense or time spent.
To find out more about seamless aluminum gutter installation, contact Custom Insulation Company, Inc.