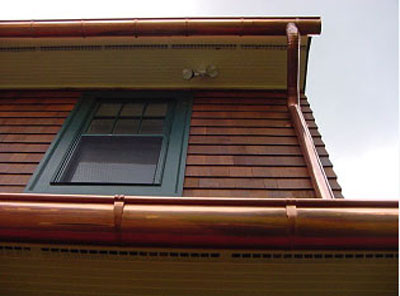 The gutter system is an important home feature. Gutters protect the foundation from the water damage and water infiltration. While there are many options for residential gutters, many homeowners are choosing seamless copper gutters in Boston, MA because of their beauty and functionality.
One advantage of seamless copper gutters is that they are very attractive on exterior of homes in the Boston and Worcester area. Copper also takes on a patina effect as it ages, which makes it more desirable for many. This patina effect gives the gutter system a rustic look, one that can't be found in other options.
Aside from beauty, seamless copper gutters boast unmatched functionality. Because they are seamless, they have less chance of leaking which means foolproof protection. Copper also means lower maintenance because copper is a natural herbicide so mildew and algae are prevented. Seamless copper gutter installations a practical investment – one that pays for installation costs through lower maintenance costs.
To find out more about copper gutters, contact Custom Insulation Company, Inc.