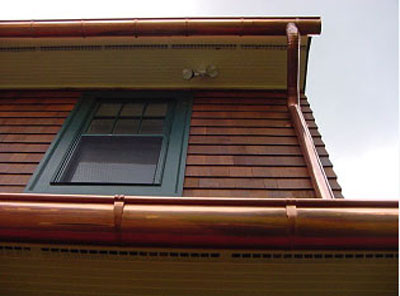 Homeowners should choose a gutter system that is not only durable and functional but one that is also stylish and stately. When you're shopping around for your gutter system, you'll find various materials options such as copper, aluminum, galvanized steel and vinyl. When it comes to eye-catching and long-lasting qualities, seamless copper gutters are a popular choice.
Copper gutters in Worcester, MA have grown in demand due to the balance of qualities they offer. Copper gutters are attractive and unique. Over time, as copper ages and changes color, the patina effect gives it a more stunning look. Copper gutters are durable and long-lasting. They can withstand exposure to different elements and extreme weather conditions. They can even last up to 100 years when properly maintained. Their long life is mainly due to coppers' ability to resist corrosion.
Copper gutter installation requires a skilled professional so that they will be installed properly and securely. Considering the many benefits they give, the high costs are well paid off. These make a lot more sense.
To find out more about seamless copper gutter installation, contact Custom Insulation Company, Inc.