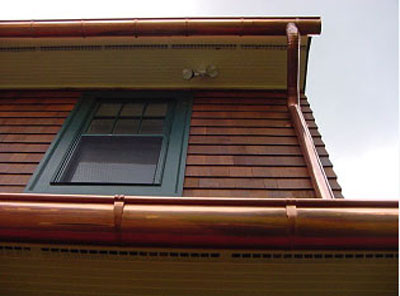 Copper gutters are widely hailed as a stunning architectural feature that can be added to any home. Because your home's exterior plays an important role in the aesthetic value while at the same time providing protection against weather conditions, owners need to be sure it had the proper regular maintenance and the best gutter system to preserve its pristine condition. Because gutter systems keep water away from walls and the foundation, installing seamless copper gutters can significantly prevent damage, add appeal, and maintain the strength and support of the foundation.
Copper gutters in Boston, MA are in demand because of the numerous qualities they bring to any home. Copper is a high-end material known for its durability, longevity and strength. Therefore, seamless copper gutters are extremely durable and long-lasting. Copper gutters give your exterior a traditional, but elegant appearance and will improve the splendor of your home. The green patina effect of copper as it ages also provides an extraordinary feature. Lastly, copper is an algaecide and effectively stops the growth of mildew and lichens. Mildew and other similar growth can cause blockage in gutters. The natural prevention of this means there is less maintenance with copper gutters on your home.
Although the initial investment of copper gutter installation can be more expensive than other kinds of gutter systems, you will still save money over the life of the home. With the high cost associated with copper gutters and the intricacy of the installation, it very important to hire a knowledgeable and skillful professional who will protect the investment you are making in your home.
To find out more about the benefits copper gutters, contact Custom Insulation Company, Inc.