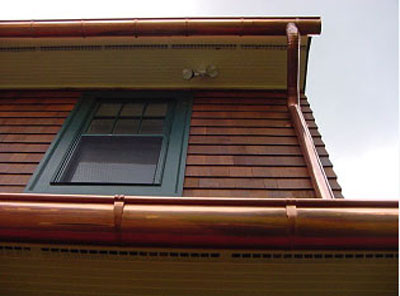 Gutters come in wide array of materials, styles, and quality. You can choose gutter materials like vinyl, galvanized steel, aluminum and copper. But, what makes copper so appealing as a gutter system? Copper is extremely reliable due to its superior strength. Among various gutter materials, copper is least likely to deteriorate which means that those that are crafted with this material can stand the test of time. For your home gutter system, choosing seamless copper gutters is a smart choice.
Copper gutters in Worcester, MA are made to last and can withstand even the nastiest storms, harsh elements and grueling weather changes. They are guaranteed to remain functional for many years. When you choose copper as a material for your gutter system, you'll enjoy its rustic charm and enduring appeal, adding a timeless look to your outdoor space. In addition, copper is a recyclable material so if you want an eco-friendly home improvement project then copper is the perfect choice. This will not only protect your home from the risks of water intrusion, but this can also give a positive effect on the environment.
However, copper is more expensive compared to other materials. The initial cost of copper gutter installation may seem staggering but sooner or later you are likely to save more money. The long life span of copper means you don't have to replace your gutters for decades.
To find out more about seamless copper gutter installation, contact Custom Insulation Company, Inc.