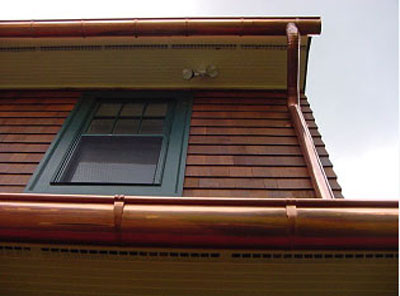 There are many materials for rain gutters. However, seamless copper gutters are popular because the offer many advantages over the other options, including beauty.
Seamless copper gutters in Worcester, MA are known for durability. In regions with huge temperatures range copper rain gutters are in high demand. They are also resistant to rust and rot which makes them attractive and functional for life. Because they are seamless, copper gutters do not leak even during heavy downpours.
Copper naturally generates a unique, rustic hue overtime, this is called patina. This look creates an elegant looking exterior that homeowners and passers-by will love. Homes with copper gutter installation will stand out from the neighbors who have vinyl or aluminum gutters. The patina effect of copper gives gutters a beautiful finish that cannot be achieved with other gutter materials. This is why seamless copper gutters are a practical investment for home owners who want to preserve the antiquity of their homes.
To find out more about seamless copper gutters, contact Custom Insulation Company, Inc.